SYSTEMIC SCLEROSIS : ADUSE – Upcoming inclusions
SPONSOR: CHU de Toulouse
COORDINATING/ PRINCIPAL INVESTIGATOR:
Pr. Grégory PUGNET
Service de Médecine Interne et Immunologie Clinique,
CHU Rangueil, 1 avenue du Pr Jean Poulhès,
31059 Toulouse Cedex 9
Tel : 05 61 32 35 95 / Fax : 05 61 32 29 09
e-mail : pugnet.g@chu-toulouse.fr
Module Biothérapies CIC 1436 Toulouse :
Hôpital Rangueil, 1 Avenue Jean Poulhès,
31059 Toulouse Cedex 9
Marine LEBRIN-SERRENTINO ; Laetitia BUGAREL ; Fabian GROSS
Tel : 05 61 32 37 24
e-mails : lebrin.m@chu-toulouse.fr ; bugarel.l@chu-toulouse.fr; gross.f@chu-toulouse.fr
TITLE: Subcutaneous injections of autologous cultured adipose-derived stroma/stem cells to heal refractory ischemic digital ulcers in patients with scleroderma: A phase II study (ADUSE)
CLINICAL TRIALS: NCT04356755
JUSTIFICATION/ CONTEXT
Systemic sclerosis (SSc) is a systemic autoimmune disease characterized by an autoimmune-mediated microangiopathy and progressive fibrosis. Ischemic digital ulcers (DUs) are frequent in the disease course. DUs are an expression of the severity of the microangiopathy. DUs lead to pain, infection, gangrene, auto-amputation, impaired hand use and impaired quality of life. The management of DUs is often based on optimal wound care to promote healing and repeated hospitalizations to perform onerous prostacyclin infusions to reduce pain and accelerate healing. With optimal standard of care, only 60% of DUs are healed after 3 months and 46.2% experiences recurrence during that time among them 11.2% experiences a chronic evolution. No drug has demonstrated a positive effect on refractory DUs healing. The rational underlying the use of cultured adipose-derived stromal cell (ASC) in this indication is based on the finding of ASC, in vitro and in vivo, angiogenic and anti-inflammatory potential in other ischemic pathologies, with an excellent safety profile. The ACellDREAM trial (NCT01211028) demonstrated the feasibility and safety of autologous ASC transplantation in patients with non- revascularizable critical limb ischemia and showed improvement in ulcer evolution and wound healing. The EFS ASC culture procedure safety is validated and is already in use in ongoing French and European clinical trials. Two pilot studies showed the safety of autologous adipose tissu grafting for scleroderma-Induced DU. The SCLERADEC pilot study outlines the safety, in 12 SSc patients, of the digital injection of adipose- derived autologous stromal vascular fraction, which is a heterogeneous population of cells including only 36% of uncultured ASC. An improvement in hand disability, quality of life and DUs was observed, the phase II is ongoing.
The hypothesis of our study is that digital injection of autologous cultured adipose-derived stromal cell could be efficacious for scleroderma-induced refractory ischemic DUs healing by digital vascular regeneration and ulcer prevention in a clinical situation where no alternative therapy is validated.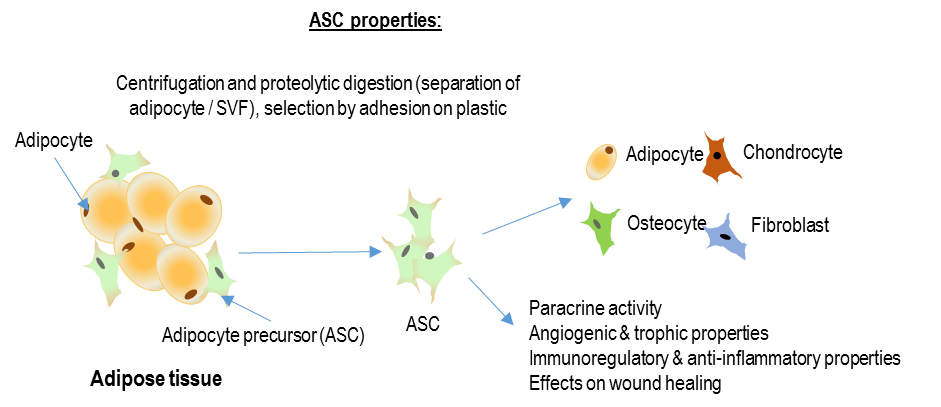 OBJECTIVES
Primary Objective:
To compare efficacy and safety of digital injection of autologous cultured adipose-derived stromal cell versus placebo for healing refractory (chronic and/or recurrent in the 3 months following a DU occurrence) active ischemic digital ulcers in patients with systemic sclerosis in a 16 weeks placebo- controlled trial.
Secondary objectives:
To evaluate the efficacy of local injections of autologous cultured ASCs on the healing of DUs, the absence of complications or the appearance of new DUs, and on the quality of life and the pain scale of patients.
To evaluate phenotype, cytokinin profile, immune-modulating and angiogenic activity of the injected adipose-derived stromal cells.
Immunomonitoring of scleroderma antibodies and vascular biomarkers an immuno-monitoring of vascular biomarkers
Bio-bank of serum and plasma.
CLINICAL TRIAL PROGRAM

INCLUSION CRITERIA
Over 18 years old systemic sclerosis according to the 2013 ACR/EULAR classification criteria.
At least one active digital ischemic ulcer located beyond the proximal interphalangeal joint, on finger surface (but not over subcutaneous calcifications or bone relief) and refractory after 10±2 weeks of standard of care.
Women of childbearing potential must use a reliable method of contraception.
Patient must have provided written informed consent prior to enrolment.
Patient must be able to understand their requirements of participating in the protocol.
Patient affiliated to a social security system.
EXCLUSION CRITERIA (non-exhaustive)
Current smoker or tobacco consumption stopped for less than 3 months prior to inclusion.
Patients on statins, vasodilators, calcium channel blockers, ACE-inhibitors, nitroglycerin, α-adrenergic blockers, or angiotensin II receptor antagonists, N-acetylcysteine, antiplatelet aggregation therapy or low molecular weight heparin who have received treatment if present for less than 3 months or not stable for at least 1 month.
Treatment with disease modifying agents such as methotrexate, mycophenolate, mofetil.
Treatment with oral corticosteroids (> 10 mg/day of prednisone or equivalent).
Systemic antibiotics (oral and TV) to treat infected DU(s) within 4 weeks.
Use of topical growth factors, hyperbaric oxygen.
Local injection of botulinum toxin in an affected finger within 4 weeks prior to "inclusion visit".
Surgical sympathectomy of the upper limbs or surgical wound debridement within 1 month.
Liposuction technically impossible.
Patient who underwent autologous hematopoietic stem cell transplantation (HSCT) within 1year.
Patients with an indication for intensification by autologous HSCT.
History of cancer in the last five years.
Positive HIV-1 or 2, HTLV-1 or 2, HBV or HCV.
Patients with a history of stroke, myocardial infarction or severe arrhythmia in the last 6 months.
Females who are pregnant or plan to do so during the course of this study.
OUTLINE OF THE RESEARCH: Phase II, double-blind, randomized (1:1), multicenter, prospective, longitudinal, comparative, placebo-controlled clinical trial. Patients will be followed-up for 16 weeks.